Brooke Estin
Communications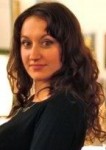 Brooke grew up in a small northern California town until age 9 when her family moved to Bangkok. After graduating from the International School of Bangkok, she attended university in both the US and UK on an academic scholarship where she earned a BA in International Relations.
While living in San Francisco, she began working for Kiva, the world's first person-to-person micro-lending website which empowers individuals to lend to unique entrepreneurs around the globe for the sake of poverty alleviation. Inspired and intrigued by the concept of using business principles to solve social and environmental problems, Brooke decided to explore this idea more thoroughly and boldly following Nobel Peace Prize winner Muhammad Yunus to a microfinance conference in Bali. Her inspiring interactions with Dr. Yunus led her to pursue a career that focused on using innovative business models to solve social and environmental problems.
Since discovering her passion for sustainable business, she has been traveling the world working to support various non-profit organizations, corporations, governments, emerging entrepreneurs, educators, international development organizations and philanthropists in order to develop sustainable solutions for the world's most pressing challenges. Prior to joining InSTEDD in February 2010, Brooke was simultaneously working on Public Relations at Kiva, Social Innovation Design at Lovely Day, Business Development at All Day Buffet, Project Coordination at Change Fusion Bangkok and Communications at Change Fusion Nepal. In addition, Brooke is a Skillshare Master Teacher. Brooke is a frequent speaker on the topic of sustainable business development and has spoken at conferences and educational institutions in the United States, Europe and Asia.