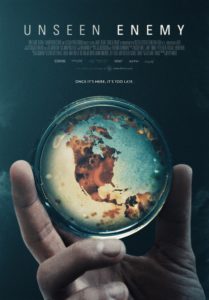 "Act Now or Pay Later…"  
The ominous tagline from the new documentary Unseen Enemy warns of the rising threat posed by infectious diseases, which if not detected and acted upon in time can lead to a deadly global pandemic.
The borderless battle against infectious disease is being fought daily by health workers in clinics and hospitals in hot zone areas. These brave individuals work alongside local and district health offices to make up the first line of defense against disease threats like Ebola, Zika and Influenza. Ensuring those on the frontline are well equipped and able to work effectively with national and global institutions is the difference between a controlled outbreak and something much worse.
Here are a few strategies we've seen be effective in strengthening the fight against the "Unseen Enemy"
Connect Epidemiologists & Technologists to Design Solutions Together
In our experience getting designers, developers, and technologists in a room with time-strapped public health officials is extremely difficult, and often not seen as necessary.
Ideally these sessions occur well in advance of a crisis, when the likelihood of bringing people together is high and there is less of the frantic rush that comes with the onset of a disease outbreak. Without prior knowledge exchange a massive understanding gap exists between those who build solutions and those who need to use them.
"If you don't go, you won't know"
This motto is core to our team values and we encourage technology designers and developers to get out into the field to work alongside community health workers and public health officials.
We are strong proponents of local design workshops, hackathons, and prototyping sessions that provide opportunities for key stakeholders to inform solution designs.
We have participated in and lead several "EpiHacks" – week-long events which fuse public health workshops with rapid prototyping sessions, and bring together epidemiologists, local health officials and technologists to problem solve specific public health challenges.
View a 
Photo Essay Recap of 2015 EpiHack
held in Rio de Janeiro, Brazil which focused on the need for improved public disease surveillance at mega events like the Olympics.
The ideas born from these types of exchanges and the networks they cultivate allow for innovative tools that help to prevent, predict, detect, and slow the unseen enemy of pandemic disease. A networked approach allows new information and communication technologies to be shared and take root, replacing ineffective legacy systems.
Taking Ministries of Health from Paper to Digital
One of the realities for public health workers in low-resource settings is the amount of paperwork done on a daily basis. In areas where internet connectivity and even electricity can be hard to find or is unreliable, reporting cases by paper may be the only available option.
Those in charge of filling out time-intensive patient paperwork are often the same medical personnel and community health workers who are responsible for tending to patient needs.
With the availability of mobile phones and increasing network connectivity the transition from paper to digital is becoming a tangible reality.
Solutions that replace the paper process with digital platforms must be durable, and adapted to the local context. Just as importantly, ownership and engagement from the local government health department is critical.
Being able to collect patient data using digital solutions is a breakthrough opportunity, but local governments must be trained and empowered to maintain a digital system long term and take on issues such as data privacy and management.
In a recent

blog post by Dr. Niwagaba, an InSTEDD Global Ambassador located in Uganda, the paper records room at the Kampala-based hospital where he practices is described from his unique perspective.
Watch a CDC Country Direction in Cambodia talk about how they  adopting digital health reporting in Cambodia, with positive results.

Click to watch 
Once new digital systems are in place public health officials have new and powerful opportunities to engage their communities in spotting and tracking infectious disease.
Engage the Public in Digital Disease Reporting
"We need to put the public back into public health." – Dr. Mark Smolinski of Skoll Global Threats Fund.
For the past three years the iLab Southeast Asia has collaborated with Dr. Mark's team to discover new ways to get the Cambodian public involved in spotting outbreaks.
In January 2016 this collaboration resulted in "115," a free to the public hotline managed by the Cambodian CDC in the Ministry of Health. Over the past year tens of thousands of calls have been made and the Cambodian CDC in collaboration with the World Health Organization has held trainings in every district, promoting us for both the rural and urban populations.
It is through initiatives like public disease reporting hotlines and leveraging data from Twitter, Facebook and other social media platforms that allows the public to alert officials to outbreaks, which in turn leads to a more rapid response.
---
The Ongoing Quest to End Pandemics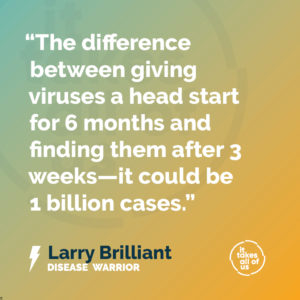 Dr. Larry Brilliant, who is featured as a "Disease Warrior" in the Unseen Enemy documentary, told the world in a 2006 TED Talk "Outbreaks are inevitable, pandemics are optional." Dr. Brilliant's ongoing quest to end pandemics in our lifetime inspires our team's work with partners across the globe. Together we can promote early detection and early response.
Watch Unseen Enemy:
Available to cable subscribers on CNNgo
Watch the Trailer for Unseen Enemy  |  Visit the Documentary Homepage
Blog Contributions by Joseph Agoada, Simon Green, & Wendy Schultz
Featured image is property of CNN, Unseen Enemy, It Takes All of Us and can be found here.