"T
he
journey
is as important as the destination.
"
By Aidah Bukubuza
The United States of America is the most documented country when it comes to popular culture, entertainment and literature. Almost everyone hears about it and watches movies about it. So naturally when one finds out that their imagination of visiting America are going to materialize into reality, it can be hard to contain the excitement. I came here with my life in two suitcases limited to 50 pounds each, ready to dream big. I was excited to see and learn as much as I could.
Indeed when I finally arrived at O'Hare International Airport in Chicago things started to make sense. I was in a great country where everything looked big and mighty. For someone in the tech world, the U.S is the place to be. I wanted to meet great mentors and innovators in the tech world and this too became a reality soon after. To say that I feel blessed to be part of the Mandela Washington Fellowship is indeed an understatement.
Before coming to the US, I had heard a lot about their cultural diversity and it has been quite amazing to experience and appreciate diversity and respect from people of different backgrounds. Learning from great mentors and professors from one of the best Universities in the world at Kellogg School of Management, Northwestern University Evanston Chicago was life-changing given how engaging the classes were as far as useful technological skills were concerned.
I can safely say that my time here has been a mind-blowing experience that has made me believe that it is okay to be ambitious, to think big and put in the work to achieve your dreams. Living in the same house with 24 other fellows from different countries broadens one's perspective to life and tech since every society has different challenges that require tech solutions, plus I enjoyed hearing the variety of accents.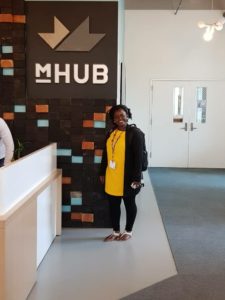 The field visits to tech companies like 1871, mHub Chicago and Blue 1647 helped me understand more about the role of ICT in solving the challenges in today's changing world of work. The founders and staff of these organisations were selfless and keen to share knowledge with us to help us understand their journeys as well as the hurdles they had to overcome along the way.
The key take-away was that there will always be a need for social impact solutions to address the ever-changing issues in development, technology, innovation and entrepreneurship. Meeting young African leaders from at least 49 countries in this programme showcased the immense potential and opportunity in investing in the next generation of African leaders. Each of these 49 individuals aspired to create a positive impact in innovation, development, entrepreneurship and technology by relating to the challenges faced back home in Uganda and Africa and understanding it in a both local and international context. If similar mentorship programs were to be implemented in Africa, the knowledge and skills the young Africans would gain would surely be of high value and impact. Not only would this advance our knowledge but also improve our understanding of methods and indicators for assessing impactful technological innovation.

Hearing inspiring stories of risk and determination empowered my vision and dream to succeed regardless of where you come from and that preparing yourself to enter the workforce with relevant technical skills involves lots of hard work and planning. Back in Uganda some people assume that young people in USA are so different from us however the difference is in availed opportunities, and we can all compete in the same spaces and even win opportunities, especially if one takes career advice seriously and is always willing to learn.
On completion of our six week program with different host universities across the USA we all gathered for a three day summit in Washington DC. At the opening ceremony of the Mandela Washington Fellowship Summit 2018, I was recognised as the "Outstanding Fellow" for 2018 among 700 African fellow leaders from 49 African countries by Ambassador Jennifer Zimdahl Galt, the Principal Deputy Assistant Secretary for Educational and Cultural Affairs, U.S Department of State. It was in recognition for the outstanding work I am doing in using technology to improve service delivery in health sector and women's lives in Uganda.