Manager of Contracts and Finance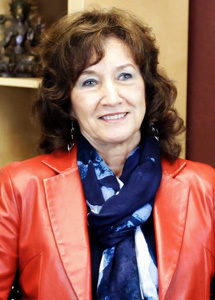 Anne Smith, aka "Anna Raquelle", joined InSTEDD in 2010 as Manager of Contracts and Finance.    Anna brings over 30 years of contracts management experience with a variety of high profile customers in both US and foreign governments and businesses.  At InSTEDD, Anna provides guidance to InSTEDD management and staff  in all matters related to contractual agreements and transactions for both our US and Cambodia operations.  
She works closely with the InSTEDD team from the beginning of opportunity discussions and then directly with our customers to ensure successful negotiations  are achieved for all parties.  Additionally Anna provides oversight in the areas of cash reconciliation and US Government financial reporting and invoicing.   Anna has successfully negotiated over 50 contracts for InSTEDD, and worked extensively with US Government and several prime contractors to help build their capacity in understanding the implications of Open Source software licensing.  Anna is highly regarded by both the InSTEDD team and its customers for her high degree of professionalism, her dedication to excellence and her extraordinary attention to detail.
Anna began her career as Program Administrator for a large international organization working on several U. S. Government projects and was responsible for the administrative reports and financial analysis required by those contracts.  Within a short time, Anna joined the Contracts organization where she quickly demonstrated her negotiation and administrative skills in her interactions with a variety of customers and program managers.  This led to her assuming responsibility for a budding international contracts organization, and over the years,  she and her staff  negotiated and managed several successful engagements with governments and businesses of nations allied with the U. S.   She received awards from her employer for the very positive outcomes she was able to achieve in challenging contract negotiations, and for the excellence of the export/import compliance program she established.  She undertook additional responsibilities throughout her career, the most significant of  which was the addition of the Security Organization which enabled her employer to perform on highly classified, sensitive projects.   She concluded that phase of her career at General Dynamics as Vice President of Contracts, Security and Export/Import Compliance with a staff of over 100 people.  
Anna enjoys the opportunity to contribute her knowledge and varied experience in support of the important work InSTEDD is doing to improve the lives of people throughout the world.   She particularly enjoys the challenge of working with the diversity of InSTEDD's customers and the variety of the transactions InSTEDD undertakes.
Personally, Anna loves the outdoors and all the creatures that inhabit it, music, reading, "good" movies, her feisty Australian cattle dog, Jazzie, and two precious girls who happen to be her granddaughters.  Oh, and there's a special place in her heart for . . . . . Elvis!!!