Director of Global Communications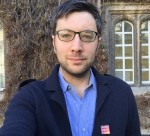 Joseph brings over ten years of communication experience in complex international programs and partnerships. In 2006 he founded a non-profit which delivered appropriate technology and capacity building to East Africa. The nonprofit work led to employment with teams in the Massachusetts Institute of Technology ( 2008 – 2009) and the United Nations Children's Fund (2010 – 2014).
In 2011 founded the UNICEF-Geographic Information System (GIS) a mobile mapping innovation deployed for youth focused community risk reduction in Brazil, Haiti, Argentina and Cameroon. Joseph joined the InSTEDD team in 2014 in the Global Communication role. Joseph is passionate about community driven innovation and is an active member of the social intrapreneurship community and is a published author on Forbes.com, Virgin.com and the Huffington Post.