President & Chief Executive Officer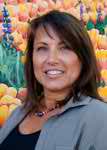 Wendy joined InSTEDD in the Fall of 2006. Over the course of her time with InSTEDD she has worn several hats as the needs of the organization have grown. Along with her current role as CEO, she manages the international regulatory requirements for our overseas operations and also serves as West Coast Liaison for Crisis Response. She is Secretary and Treasurer to the Board of Directors.
Wendy brings to InSTEDD over 25 years of experience in finance and operations with expertise in audit preparation and process, cash management, budget development and quality assessment.Her career has spanned the aerospace, computer technology, venture capital and environmental energy conservation industries. She holds a degree in Finance and Accounting and certificates in Supervisory and Business Management.
In addition to her InSTEDD activities Wendy volunteers her time as CFO for World Wide AIDS Coalition (WWAC) that uses models for social innovation to support healthcare in countries with severe resource constraints. She also devotes time to working with women and at-risk teens, teaching them office administration software and finance application tools in order to help them develop marketable skills.